Our minimal input philosophy is backed up with our commitment to maintaining our vineyard's organic certification, which was acheived in 2017 after two years of trials and three years of conversion.
The importance of the health of our vineyard is paramount to the quality of our wines, and sustainability of our vineyard is also recognised as being vital. We believe that the process of organic certification for our vineyard is testament to our commitment to looking after the land.
All Margaret River vineyards enjoy the benefits of good winter rainfall, and of sunny, dry ripening seasons that avoid excessive heat given the cooling influence of the Indian Ocean. But within the Margaret River wine region, there are sub-regional differences that depend on latitude and on the distance from the ocean.
Within each sub-region, a single vineyard's unique combination of soil types and micro-climates play a huge role in final wine quality, and on how different wine grape varieties will grow on different parts of the block. With all our fruit grown on the single vineyard, we are truely able to produce wines with a sense of place.
The four largest blocks of the vineyard are planted on a gentle hill sloping down to a tributary of a small stream which flows in the winter months. Additional blocks are planted on selected parcels of soils closer to the winter streams. Across the property the soil types vary from deep gravelly loams, to coarse gravels, to lighter sandy soils over a clay base.
Our vine rows all run east-west, and are 3.3m apart with vines planted every 1.8m along the row. This gives us a total of almost 21,000 vines - of 12 different varieties.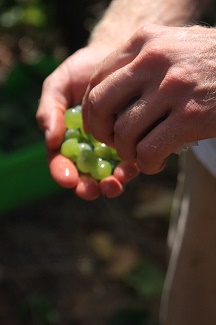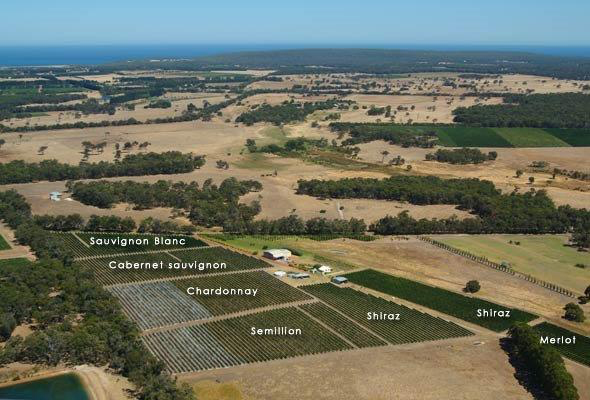 A typical sunny summer morning in Margaret River. By 10:00am, the strip of blue ocean will be flecked with the white-caps of the incoming sea-breeze, and by 11:00am the breeze will arrive with a cooling rush at the gates of Rosily Vineyard…30 seconds later even the far end of the Merlot rows will be given respite from the building heat!