Peter Stanlake – Winemaker
A 30 plus year veteran of the wine industry, Peter is known for his golden runs at Hay Shed Hill, Tassell Park and Talisman wines. In his role at Hay Shed, he purchased the early vintages of Rosily fruit. He has worked vintages with our prior winemakers, the two Micks, and brings with him broad ranging experiences from contract winemaking at large modern wineries to hands on assistance to regional wine enthusiasts. Unfortunately his surfing skills are inferior to the 2 Micks and have declined to the point of "not required this year" (or any year) in the annual Rosily surf team.
Sam Castleden – Vineyard Manager
Sam became interested in viticulture after he took a casual job planting the original vines at Rosily in 1994. The close relationship that he formed with all 20,682 vines planted meant that he couldn't leave. Watching Rosily develop from a grass covered hill in 1994, through to the Wine Industry of WA's "Most Outstanding New Winery" in 2003, and on to becoming the well regarded premium Margaret River wine producer that it is today, ensures that Sam never regrets meeting his 20,682 vinous friends.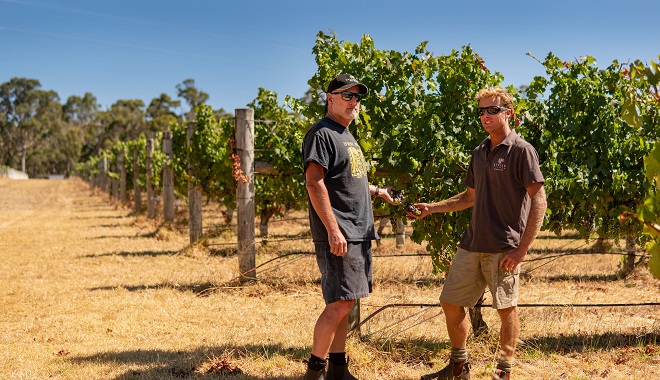 Peter and Sam inspecting Cabernet at veraison, January 2021
Ben Allan – Sales and Distribution Manager
Working closely with David Mullen at David Mullen Wine Agency, Ben supplies the top restaurants, bars and bottle shops of West Australia with a great range of fine wines. Ben is also responsible for ensuring the professional distribution of our wines throughout the rest of Australia and the world.
Verna Westwood - Cellar Door Manager
Despite having represented Australia in the 1980 Olympic rowing team, it was still a significant step up in responsibility for Verna to agree to represent Rosily at our cellar door. Fortunately, the extensive experience in wine education and cellar door sales that Verna accumulated in between the Olympics and Rosily made it a step that she accomplished with ease.