Mike Lemmes – Winemaker
Mike obtained his degrees in winemaking and science from Roseworthy college, and soon began working as winemaker at Willespie Estate. His talent was recognised by Rosily's founders, and he was asked to become our first ever winemaker, at our brand new (aka not-quite-finished) winery in vintage 2000. Mike's commitment to his role saw him sleeping on the floor in the winery during vintage, as he processed our early vintages as sole winemaker. He went on to win two trophies, over twenty gold medals and a confetti of silver and bronze at Rosily, before moving on to become one of Margaret River's first cider brewers. Mike returned to Rosily in time for vintage 2023, to continue his relationship with vines that he had helped prune into shape over twenty years prior.
Jarod Bawden – Viticulturalist
Jarod decided to study viticulture at Charles Sturt University after working for a number of years at the nearby Moss Wood vineyard and winery. After finishing his studies, Jarod worked at Stella Bella, and then at Woodlands, where his passion for fine wines was drilled into him one bottle at a time at "Friday arvo drinks". Jarod then did a two year stint as vineyard manager at Stefano Lubiana in Tasmania, where he developed his organic viticulture skills to the point where he was ready to return to Margaret River and take up the role of viticulturalist at Rosily Vineyard.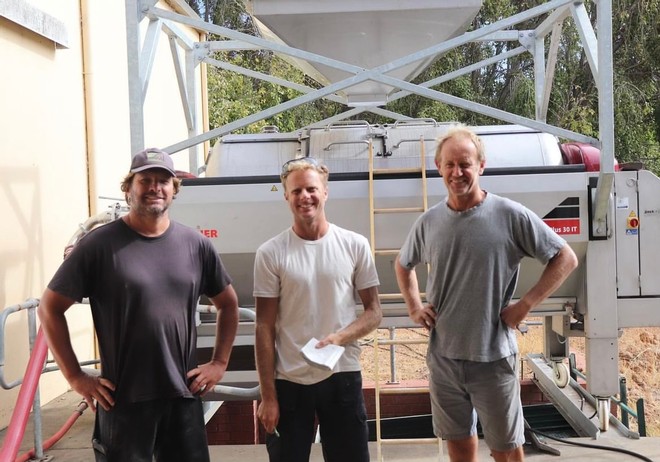 Jarod, Sam and Mike, vintage 2023
Sam Castleden - Manager
Sam became interested in viticulture after he took a casual job planting the original vines at Rosily in 1994. The close relationship that he formed with all 20,682 vines planted meant that he couldn't leave. Watching Rosily develop from a grass covered hill in 1994, through to the Wine Industry of WA's "Most Outstanding New Winery" in 2003, and on to becoming the well regarded premium Margaret River wine producer that it is today, ensures that Sam never regrets meeting his 20,682 vinous friends.
Ben Allan – Sales and Distribution Manager
Working closely with David Mullen at David Mullen Wine Agency, Ben supplies the top restaurants, bars and bottle shops of West Australia with a great range of fine wines. Ben is also responsible for ensuring the professional distribution of our wines throughout the rest of Australia.